Yellow madness: Bananas' conditioning properties
The fruit of wise men – this is how translates the Latin name of banana (Musa Sapientium). This is an irreplaceable source of vitamins B and essential to organism elements – magnesium and potassium. Bananas have great impact on nervous system, decrease rick of heart attack and improve mood. What are conditioning properties of this fruit?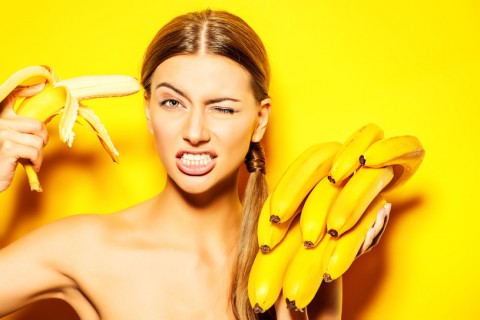 Banana is a source of fibre, vitamin C, vitamin B6 and minerals. This alone is a testimony enough to show how much good it can do for your skin and hair. Although, this fruit is frequently used as a "energy shot", a snack or complementation for protein shake after workout, let's skip to those less known properties of banana in the conditioning context.
Banana vs. Acne
Contained in banana compounds make it fruit with strong anti-bacterial properties. It can help in a skincare focused on acne elimination. The simplest method is face massage performed with the inner part of banana peel. Perform massage until the peel becomes dry, and after about 30 minutes wash it down. For people with more time on their hands is recommended to prepare home made face mask with banana, baking soda and some turmeric.
Teeth whitening with banana
Quite unusual idea is to use banana for at home teeth whitening. The method is really simple. Every evening rub your teeth with inner part of banana peel for 2 minutes. Then wash your teeth to avoid enamel subjection to sugar contained in the fruit. The results should be visible after about 2 weeks of regular at home treatments.
Banana hair mask
You do not have to buy ready hair mask with banana from Kallos. Fresh banana is also great in haircare for dry and damaged hair. High porosity hair require mostly hydration and regeneration. You should mix crashed banana with honey and water (to dilute it). Apply hair mask and leave it for an hour, protect it with warm towel. Later rinse it and wash your hair.
Banana for rejuvenation
You do not have to look far for a face mask that will make your skin look younger. Just mix crashed, fresh banana with natural yoghurt, orange juice and few drops of almond or grape seed oil. Yoghurt will tighten pores, banana will ensure nourishment, oil will moisturise and the citrus will reduce minor wrinkles. Leave mix on face for about 15 minutes and wash down with warm water.