Eos Delicate Petals – Christmas cosmetic set
Well known brand, Eos, for Christmas decided to gift us with nourishing and conditioning cosmetic set. There are: lip balm, hand cream and body lotion. All products are great as a Christmas present. Will your closest one like them as well?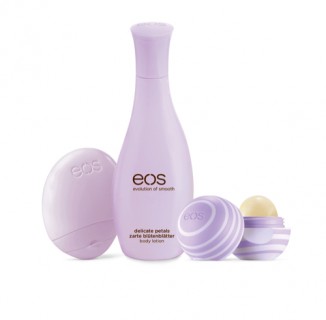 In new Eos Delicate Petals are body lotion, hand cream and lip balm. Cosmetics are dedicated for skincare of every skin type. However, the best action they indicate in treatment for dry and sensitive skin. The cosmetics perfectly moisturise, nourish and take care of face and body. They prevent wrinkles, lighten discolourations and eliminate dry skin. On top of that, Eos cosmetics contain natural ingredients, that take great care of skin. Moreover, they cover body with floral scent, that lasts really long.
Eos Delicate Petals hand cream has delicate texture
This allows you to easily rub it in the hands, when the product absorbs fast and leaves no oily layer. The composition holds Shea butter, aloe, oats and antioxidants, that provide skin with young and healthy appearance. In this hand cream are no parabens or gluten. The product was not animal tested. Nonetheless, it was dermatologists tested.
Eos Delicate Petals body lotion has complex action on skin of body
It perfectly softens, moisturises and nourishes. Contains natural ingredients, such as: Shea butter, vitamin E, avocado oil. Parabens, petroleum jelly and mineral oils are substances that are nowhere to be found in this cosmetic. What is more, the application is amazingly fast and easy – lightweight formula certainly makes the task easier. One packaging holds 350 ml/11.8 oz. of the product.
In Delicate Petals by EOS is also the iconic lip balm. Placed in small, round jar. Perfectly moisturises lips skin, prevents chapped lips and irritation. It contains vitamin E, Shea butter and jojoba oil. These natural ingredients in a great way make lips skin soft and smooth. The product is free of gluten, parabens and petroleum jelly. The balm as well as the rest of cosmetics in Delicate Petals can be used for 36 months since opening it.