Unicorns Heart: Rainbow highlighter that stole hearts of the women
Unicorns on the t-shirts, hair dyed in rainbow colours, make-up brushes inspired with unicorns and artistic make-up in colours of this mythic creature. Unicorn fans never have enough. Makeup Revolution knows it best. This brand has just launched current make-up hit – highlighters palette, Unicorns Heart.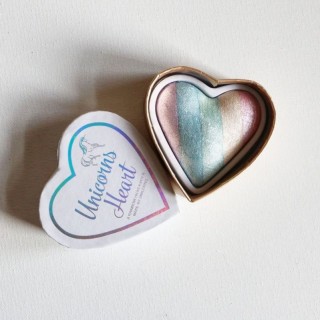 Several years back, no one would have thought that highlighter is essential to create three-dimensional make-up. If it was ever used, it was only for special nights out or New Years Eve parties. However, instead of highlighter everyone just loved brocade. Today, we cannot imagine properly executed make-up without highlighting powder. No wonder, that the make-up cosmetics choice is so immense.
Unicorns Heart – a rainbow highlighter made by… unicorns!
The writing on the cosmetic's lid says that this rainbow highlighter was made by no one else but the unicorns. The idea is truly great. What is more, the unicorn inspiration is clearly visible in this highlighter. One unicorn with sky blue mane is on the packaging's lid. However, the idea can be most of all observed in the crazy, rainbow colours of this product.
Unicorns Heart is a fifth highlighter in the "I heart makeup" collection, created by Makeup Revolution. Beside four pink palettes, Blushing Heart, we have another one in entirely different colours. What makes it similar to the predecessors is its characteristic packaging. Rainbow highlighter was also placed in an elegant cardboard box in a shape of heart.
However, there are significantly more differences. Most of all, Unicorns Heart has entirely different, yet interesting colours. The palette holds true luscious rainbow. This highlighter is definitely more shimmering and intense than standard Blushing Heart. Here Makeup Revolution combined five colours: light pink, light blue, subtle green, light yellow and light violet. You can either mix the colours or apply them individually.
With use of highlighting palette, Unicorns Heart, you can easily perform, so called wet look. You can slim the face and provide it with fresh appearance. Rainbow highlighter guarantees fabulous make-up finish, perfect for all the dreamers. Instead of blush on your cheek, you can have true, five colour rainbow. All colours applied on the skin create an amazing effect – shimmer and perfectly blended together.