Philips VisaCare. Home Microdermabrasion
Microdermabrasion is a kind of a more advanced exfoliating scrub. When you think about microdermabrasion, you imagine a professional beauty salon. Now, thanks to a small device – Philips VisaCare, you can do the treatment at home.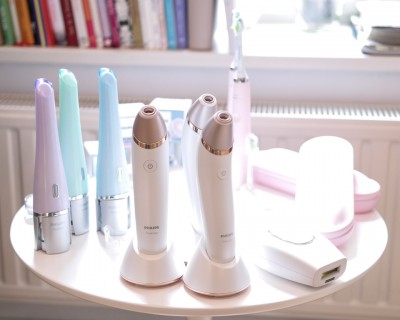 Effective skin cleansing at home wasn't possible until now. Using traditional facial scrubs and masks is a good option to gently improve skin condition. It is a good idea to undergo microdermabrasion once in a while – an advanced skin cleansing technology. The treatment consists in controlled removal of dead skin cells and impurities through releasing microcrystals at a high speed.
What are the advantages of microdermabrasion?
Dead tissue is unable to get removed completely on its own, therefore it is very important to purify the skin. The settled dead skin cells may cause skin problems, clog the pores and irritate the skin. It is also the most common cause of losing the youthful look of your face. Regular microdermabrasion treatment rejuvenates the skin as well as restores smoothness, firmness and freshness.
How does Philips VisaCare work?
VisaCare is a device that has been created for home microdermabrasion. The exfoliating tip is made from corundum. It effectively removes dry epidermis and triggers the occurrence of new cells.
The main task of Philips VisaCare is to stimulate a natural process of skin renewal. It is a tool which helps to keep young looks. Exfoliating the epidermis is the first step. You should also provide proper nourishment and moisture of the skin.
The action of Philips VisaCare is also based on the vacuum massage. The device gently sucks in and massages the skin, which allows to penetrate deep inside the skin. Consequently, it stimulates blood micro-circulation so essential nutrients are transported more quickly and reach the cells more easily.
Home VisaCare Microdermabrasion is a perfect way for revitalising the epidermis. Philips VisaCare combines the exfoliating and massaging functions. It effectively purifies the skin and enhances production of collagen and elastin – ingredients that are necessary to keep tissues healthy and young. And it's possible to achieve it in a five-minute treatment, twice a week.