Christian Louboutin for Christmas: Festive Loubilaque Lip glosses
Christian Louboutin is a world famous designer. Every girl knows his high heels with red sole and inspired with them cosmetics. As if that was not enough, for Christmas in drugstores you will find new collection signed with the name of the artist. These are lip glosses – Festive Loubilaque.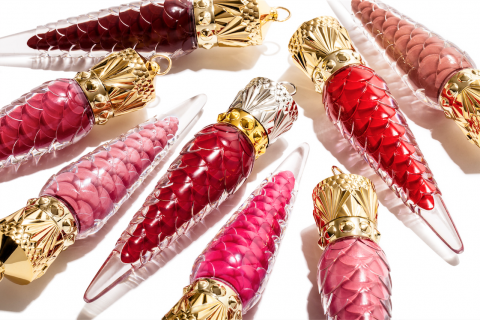 In the newest collection by Christian Louboutin are eight lip gloss shades divided into two groups: with golden and silver top for the bottle (the top resembles the crown). Cosmetics in Festive Loubilaque collection were created specially for Christmas. Their appearance resembles Christmas tree ornaments. However, women who used other products form this designer know that they can be also wore as necklaces. Lip glosses are available in all bigger drugstores. These were placed in exclusive black case with a ribbon. Festive Loubilaque can be bought in eight shades of beige, brown, red and pink.
Festive Loubilaque Lip glosses by Christian Louboutin provide perfect coverage, gloss and an incredible lip make-up finish. These are highly pigmented, easy to apply and truly long lasting. Thanks to them you will create look for every occasion. Cosmetics formula does not make lips sticky or dry. Special ingredients in Christian Louboutin cosmetics take care of right hydration and nourishment. Applicator was created in such way, so with one stroke you can cover lips with colour. What is more, it was made with materials that do not cause irritations.
Did you know that in Christian Louboutin collection you will find also lipstick and lip liner, that instead of classical top has a crown? These are Silky Satin, Velvet Matte, Sheer Voile and Lip Definer. These cosmetics are available is shades of pink, red, violet, beige and brown. Lips outlined with lip liner will seem bigger and covered with lipstick or lip gloss – more beautiful and attractive.