Create Phenomenal Brow Looks With The Ultra-Thin Eyebrow Pencil From Nanobrow!
Properly defined eyebrows enhance your facial features, add harmony to your face, and make your eyes look bigger. Nature has not gifted everyone with thick eyebrows, however, that's where makeup comes in. A brow pencil is one of the most popular yet easiest-to-use makeup products. This practical and easy-to-use product is valued not only by makeup fans but also by professional stylists and makeup artists. What should a good eyebrow pencil feature? First of all, it provides long-wear effects and a creamy and pleasant formula.
Meet the innovative Nanobrow eyebrow pencil and be amazed by its unique precision! Here's what you should know about it.
Nanobrow Eyebrow Pencil – the way for fast, long-wear, and effective brow makeup
Thanks to its waxy formula, it styles the brows, adds color, and conditions the brows. The addition of carnauba and candelilla wax adds a healthy shine to the brows and keeps them properly moisturized to ensure they are healthy and strong, even if you apply makeup to them every day. The eyebrow pencil glides smoothly on the skin, allowing you to create phenomenal makeup in just a few moments. The creamy texture not only ensures the product lasts longer but also makes it easier to apply it correctly.
The Nanobrow brow pencil provides a range of carefully selected shades to choose from that can perfectly match natural brow colors. You can use it alone or in combination with brow powders, pomade, or eyebrow soap. The shades are neither overly warm nor too cool. You are sure to find a shade that suits your features perfectly.
Nanobrow Eyebrow Pencil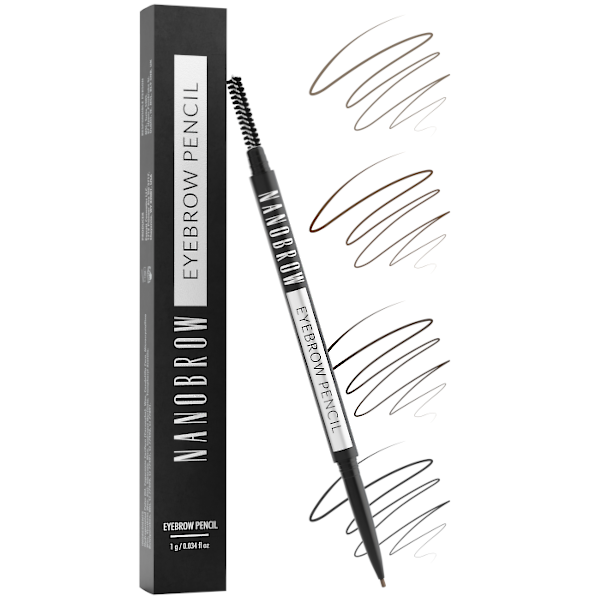 Product available in colors:
It comes with a retractable tip, which you don't have to sharpen before use. This can significantly reduce the time you spend on your brow makeup and provides even better results. Using the ultra-precise tip allows you to draw even millimeter-long lines to replace missing brow hairs. Do you prefer a stronger effect? With this eyebrow pencil, you can determine your brows in a flash and give them the right shape, fill them in with color, and add volume.
Strong pigmentation allows you to build up the coverage, creating three-dimensional effects and ensuring sparse eyebrows are no longer a problem. The smudge-proof formula ensures long-lasting makeup for hours to come.
We recommend the Nanobrow brow pencil as it ensures:
Perfect brow makeup that lasts for hours.
Retractable and thin tip.
Easy application and pleasant formula.
Visually thicker, fuller, and more voluminous brows.
Smudge-free formula.
Versatile product for thick and thin brows.
Built-in brow spoolie.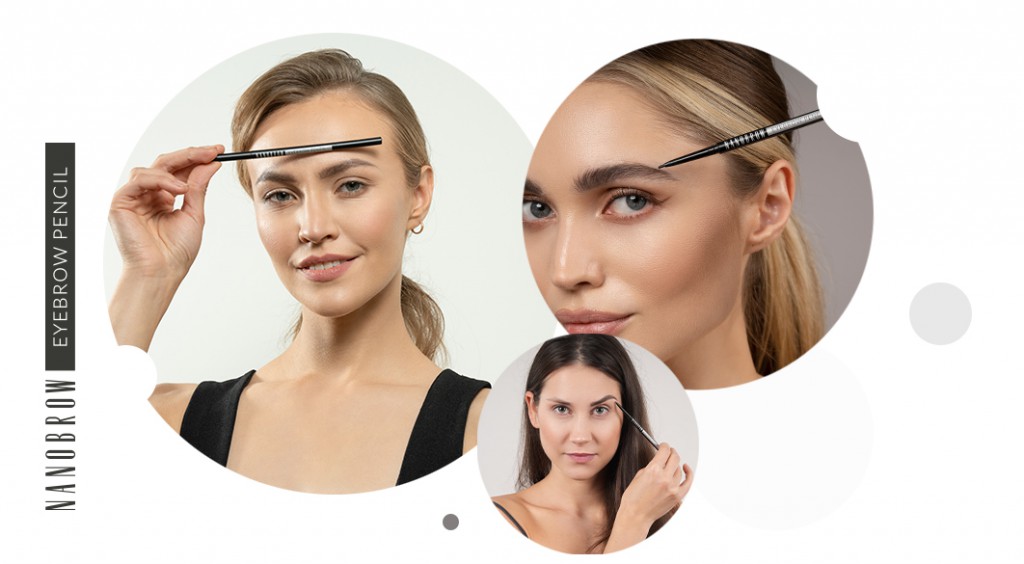 How to do your brows with the Nanobrow pencil?
It doesn't get any easier than that! Pencil is a staple of brow makeup, not only because of its great wearability but also for its simple and convenient application. How to define your brows with a pencil? Here is a brief step-by-step tutorial:
Step 1. Brush the brows with a spoolie and outline your brows properly. Stick to the natural shape of your arches, simply refining it slightly. Draw a thin line along the top and bottom brow lines.
Step 2. Fill in your eyebrows with short strokes. Using the soft shading method, you can create a natural-looking effect. It is important to keep the inner brow edge lighter and gently make it darker towards the tail.
Step 3. Finally, comb your eyebrows with a spoolie. This is an important step because it gives your eyebrows a more subtle look. What's more, it helps you control unmanageable brow hairs and ensures your makeup looks even more polished.
If you want to set your eyebrow makeup stronger and add more volume, reach for a brow mascara, brow soap, or brow gel.
You're just a few strokes away from perfectly defined eyebrows with a pencil. Where to buy Nanobrow Eyebrow Pencil? You can find it at → nanobrow.us and in good regular and online beauty stores.