Perfume bottle like a piece of jewellery: Dior J'adore L'Or Prestige
It is the most unusual perfume bottle in the world. Dior has outdone itself by designing J'adore L'Or Prestige. It smells beautiful as well as looks chic and elegant. Check why this cosmetic is outstanding.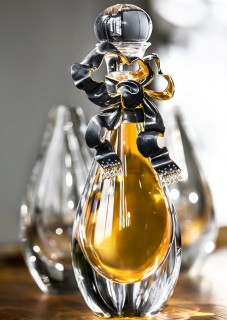 Dior J'adore L'Or Prestige is a truly unusual product. It is a little piece of art that would decorate every lady's dressing table. Dior's Jewellery Creative Director Victoire de Castellan has taken part in designing the bottle. There is a bow of silver and pink gold colour on the neck of the bottle. The bow is decorated with thirty diamonds in round cut and ten diamonds in pear form. If you would like to get yourself Dior J'adore L'Or Prestige, you'd better hurry up. Only five bottles have been created. Versailles and Baroque were the inspiration for the bottle.
What fragrance notes can you smell in Dior J'adore L'Or Prestige?
It is vanilla, jasmine and damask rose. They create an amazing and wonderful aroma which stays with you for a very long time. J'adore collection offers different capacity versions of perfume, body oil, moisturising milk, body cream, shower gel, hair mist, soap and deodorant.
Do you know how to apply perfume to extend its durability?
Apply a drop to the skin behind ears, to wrists, bends of arms and legs, the base of throat and down your back. These are the spots where you can feel your pulse, therefore the scent spreads more quickly and is more intense. Remember not to spray perfume on your hair and clothes. Why? If the cosmetic contains alcohol, it may cause dryness of hair and irritate the scalp. Besides, there are some kinds of perfume that are hard to remove from fabrics.