Avocado oil – regenerating powers of vitamins for your hair
Avocado oil is unique. There is nothing surprising in it, since it comes from a fruit considered superfood – the one with the highest nutritional value.
We expect it to do miracles in beauty care. Is this possible? What are the properties of avocado oil? How does it work on hair, what does it contain and what opinions can you meet?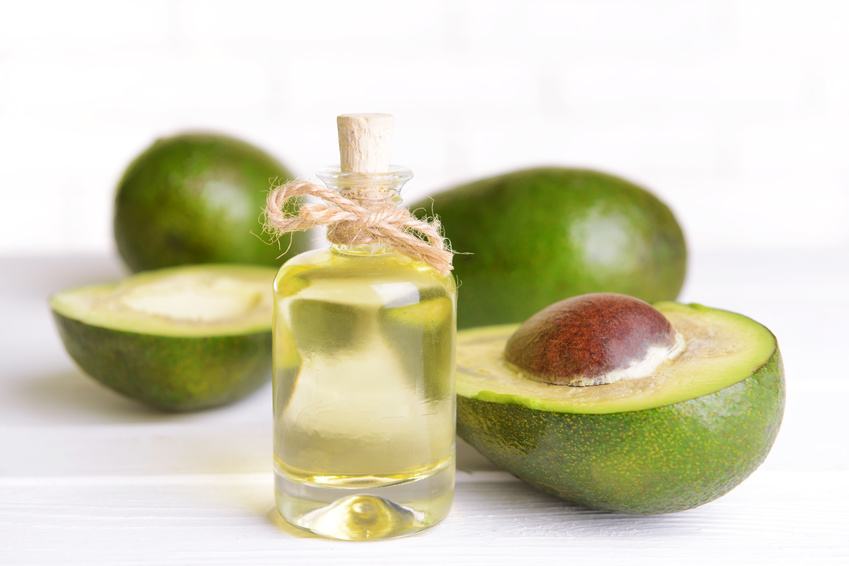 Avocado oil according to INCI: Persea Gratissima (Avocado) Oil
The surprising fact about avocado oil is that it is made from the flesh of this fruit, and not – as many might think – from its pips. So far, the method of producing avocado oil was quite time-consuming, now – it is produced using special presses. The best avocado oil is, of course, the one for which enzymatic or heating methods are not used. Cosmetic avocado oil should be cold-pressed – only then, it retains the most vitamins and minerals and high concentration of good fatty acids.
Avocado oil – composition  
The composition of avocado oil is the richness of bioactive phytochemicals, mainly plant sterols, vitamins and monounsaturated fatty acids (oleic acid prevails in it) Avocado oil contains as many as seven vitamins (A, E, D, B1, B2, B3, B5) and a large number of proteins fibrous, which perfectly improve the condition of the hair.
Avocado oil – properties 
Avocado oil is irreplaceable in the diet, and its health properties are widely commented on. We will focus only on the cosmetic properties of the oil, and there are also many of them:
avocado oil is a great remedy for damaged hair
it nourishes the hair and scalp
it prevents hair loss and perfectly nourishes mature, damaged and dry hair,
it provides the hair with seven valuable vitamins, plant sterols, protein enzymes and good fatty acids – strongly regenerates
it moisturizes the hair, skin and nail plate
it prevents the brittleness of hair and nails
it heals irritations on the body and scalp
it reduces wrinkles
it strengthens hair roots, stimulating growth
it protects against toxins from the environment and harmful effects of UV rays
How to use avocado oil in hair care?
Avocado oil is suitable for the care of the whole body, but it gained the greatest popularity after being used for the hair and under the eyes (as a remedy for wrinkles). It is ideal as a serum under the cream and applied as a hair and (necessarily) scalp mask.
In order to perform hair oil treatment with it, it is enough to gradually separate the strands and apply it over the scalp and hair along the entire length. The oil should be applied to clean, dry or damp hair (washed and towel-dried). It can be left in for about 30 minutes or (even) several hours. After finishing the oil, wash it out thoroughly, preferably with a natural, paraben-free shampoo.
How does avocado oil work? [effects]
The effects of using avocado oil can already be seen after the first application – the hair becomes soft and shiny, the scalp's sebum secretion is balanced, and the ends of the hair don't dry out nor get frizzy. Avocado oil takes care of the hydro-lipid balance of the hair and scalp, prevents the loss of moisture from the interior – thanks to this, the hair regains its elasticity and vitality, becomes tamed and easier to arrange.
Avocado oil – price
Currently, a mechanical method of obtaining avocado oil has been worked out, so its price automatically decreased, but until recently it was produced by hand (avocado pulp was kneaded into a slurry of water and heated to allow the oil to precipitate into the water). It was a very labour-intensive method, and avocado oil reached a very high price on the cosmetics market.
Avocado oil – reviews
Avocado oil is a strong cosmetic when it comes to skincare and hair regeneration. Therefore, it is often recommended by bloggers and vloggers and collects very good reviews.