How to care for your skin in winter? Useful tips and tricks
The cold air, strong wind, dry air inside the house and many more. Those are the most common causes of worsening of the skin condition. Your skin becomes dry, flaky and irritated. Check out ow to nurture your face when it is snowing outside the window.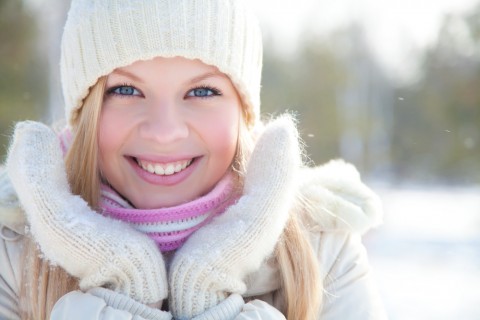 Remember about hydrating
Skin hydration from both inside and outside is very important. In the morning and evening use creams containing hyaluronic acid, allantoin, panthenol and urea. Before you leave the house, secure your face with a moisturising cosmetic. It protects the skin from wind, frost and sun rays that reflect off the snow. Do not forget to apply cream to the delicate and sensitive skin under the eyes and lips. Keep in mind that it is extremely important to moisturise all types of skin. If you are not sure how to nurture sensitive or combination skin, go to a dermatologist. Your doctor will advise you on what cosmetics you should use.
The thicker the layer, the better
Face care in winter is the same as with the dressing on cold days. The more layers of clothing you wear, the warmer you will be. Therefore, the thicker the layer of cosmetics you apply to the skin, the better you protect it from the cold. Therefore, before you do your make-up, apply a moisturiser, nutritional make-up base and foundation with vitamin E. Of course, remember to select products suitable for your particular skin type. This way you will not only protect your skin from cold air, but ensure its beautiful appearance and comprehensive care.
Cream and gloves
These are the two inseparable things that you need to use in winter. Before you go out on sledges or to build a snowman, apply a thick layer of cream to your hands. Reach for oiling cosmetics, to protect both the skin and nails. Never forget to put on gloves. It is said that these with two fingers work best with. You will feel warm and cosy. Did you know that you can also wear gloves during the night? However, these are used for regeneration of dried and frozen hand skin. You can buy them at any drugstore.
Cosmetic hair oil
Hair must also be taken care of. In winter, strands are exposed to dry and static and ends to splitting and brittling. How to fix this? At least once a week, perform hair oiling treatment. A few hours before shampooing, apply a cosmetic oil of your preference, wear a shower cap and a thick hat. The heat that is created between the skin of the head and the covers, will praise the hair scales. As a result, all nutrients contained in the oil will quickly get into the interior of the strands and the hair roots. Your wisps will be deeply nourished.