How to apply eyeliner? Professional tips
Eyeliner, applied along your lashline adds charm and visually lifts eyelids. What to do if creating the line is not your best skill? Do not worry, there is an easy and reliable way to do it. Take into consideration pieces of advice from make-up artists and girls who are very skilled when it comes to using eyeliner.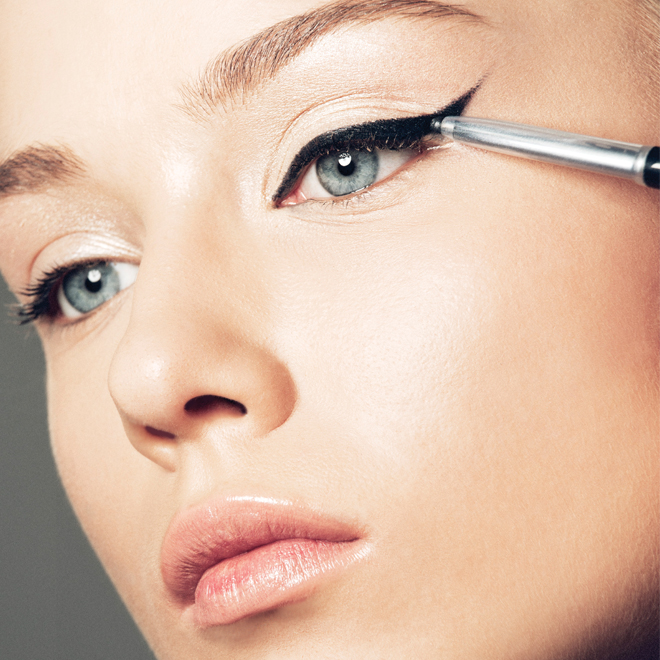 For many people, creating perfect line is a big struggle. All you need to do is to follow this simple trick and you will be able to change your appearance forever. Make sure you have waterproof eyeliner and a flat brush. You might as well use a pencil which formula is resistant to smudging, water, sweat and other factors. Additionally, remember to sharpen it! However, for beginners, the best solution would be to use liquid eyeliner. Now it is the time for make-up.
Sit in front of a mirror in a well-lit room. You can also use a magnifying mirror and an ordinary office lamp. Rest your elbow on the table and place your hand against the cheek. Your hands cannot tremble; the line will not come out perfect, if your hands are shaking. Then, lift the upper eyelid, and brush all eyelashes with a clean mascara wand – they can or disturb you while you draw the line. In the mirror you should notice your waterline, which you will be colouring in a while.
Apply a bit of pencil or eyeliner on your hand. Then smudge the cosmetic with a flat brush and draw a line on the waterline of the upper eyelid. Place the applicator at the lash line and move it several times from the outer to the inner corner of the eye. Make sure that all the gaps between the lashes are filled and that the line is equal and clearly visible. If you think that some corrections will be necessary, repeat the process several times. Complete your eye make-up with false eyelashes, your favourite eyeshadows and a good quality mascara. Remember that strongly emphasised eyes will be well-balanced with softly coloured lips and subtly enhanced cheeks.