Foundation and eye cream from Max Factor: Skin Luminizer Miracle and Eye Luminizer Brightener
Camouflage and glowing skin in one? Indeed, with new cosmetics form Max Factor it's possible. In the Skin Luminizer Miracle line are foundation and eye cream. Let's how these will come up in practice and whether they are able to make you look more beautiful.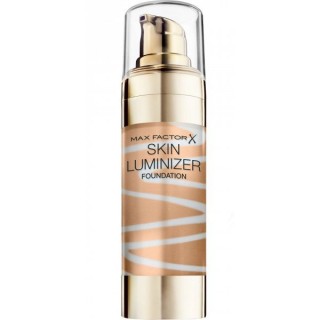 Skin Luminizer Miracle Foundation
This cosmetic from Max Factor has a bottle equipped in a pump. There are available 14 shades; in drugstores you will find beige and brown shades. What is the effect provided by the foundation? Skin Luminizer Miracle lightens dull and fatigued skin, provides deep hydration, makes skin complexion even and camouflages imperfections. What is more, it lasts long on face, is easy to administer and ensures natural effect. It contains glycerine, panthenol, mica, talc, behenic acid, synthetic wax, parabens and PEG. Therefore, people with sensitive skin of face shouldn't use the foundation from Max Factor due to high content of artificial ingredients. How should you apply Skin Luminizer Miracle? So that make-up last longer on skin, first apply make-up base. Only then apply the foundation with use of the fingers, sponge or a brush. If you have oily or combination skin, on the T zone apply mattifying transparent powder.
Eye Luminizer Brightener Cream
This product from Max Factor perfectly complements make-up performed with Skin Luminizer Miracle Foundation. Eye cream is available in five shades or brown and beige. It contains few parabens, glycerine, panthenol, allantoin and talc. Unfortunately, there are no calming substances for swelling or neutralizing for dark circles around the eyes. Max Factor Eye Luminizer Brightener camouflages dark circles and discolourations, but also makes skin complexion around eyes more even. It provides natural and long lasting effect. Moreover, it makes the look seem more beautiful and eyes optically bigger. How to use eye cream? Choose the shade a tone or two lighter than your skin complexion and the foundation in the same line. Next apply the Skin Luminizer Miracle Foundation. Preserve make-up with transparent powder.