Urban Decay, Full Specrtum Eyeshadow Palette
This unusual eye shadow palette from Urban Decay will satisfy any girl. In Full Spectrum eyeshadow you will find matte, shimmering and juicy colours. If you try out this beauty product, you will see that your eye make-up does not have to be boring, and bold shades are suitable for any occasion.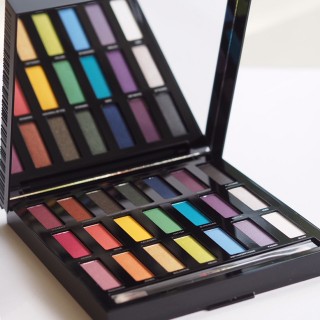 Full Spectrum eyeshadow palette comes with a large mirror and a double applicator. Unfortunately, the cosmetic is not suitable to take on a trip – it is really huge; it comprises 21 shades. The box designed by Urban Decay is closed with a "click"; It is decorated with coloured initials of the brand. Find out how to create an original eye make-up with the help of Full Spectrum eyeshadows.
Full Spectrum from Urban Decay Eyeshadow includes eyeshadows that provide a variety of eye make-up finishes. Among them, there are: pinks, purples, oranges, greens, greys, blues and white. Thanks to them, you can easily change your look. All eyeshadows are highly pigmented, remain on the eyelids for a long time, they do not fall on cheeks or accumulate in the folds of the eyelids. The cosmetic may be applied dry and wet. With the second method of applying the eyeshadows you will gain more intense effect. In Full Spectrum eyeshadow will find: matte eyeshadows (black – yellow Midnight Blaze and juicy yellow Calavera) and shimmery ones (lavender Faded and silver Iced).
How use new eyeshadows from Urban Decay? Of course, the easiest way is to do smoky eyes. Remember that all the colours that you use in the make-up should be thoroughly blended. Boundaries and transitions cannot be visible. Complement your smoky eyes with black eyeliner, fake eyelashes and eyebrow make-up. Apply one of the brightest shades to the inner corner of the eye. In the outer corner of the eye use a dark colour to create a sense of depth. At the centre of the eyelid, apply a medium eyeshadow. Your smoky eyes make-up is ready.