Ultimate lipsticks by Collistar – Extraordinary Duo Lipstick
Orange, red, pink, violet. This is how new lipsticks by Collistar, Extraordinary Duo Lipstick are. To make it even more interesting, manufacturer placed two colours in one product. Let's see if you'd like this lipstick?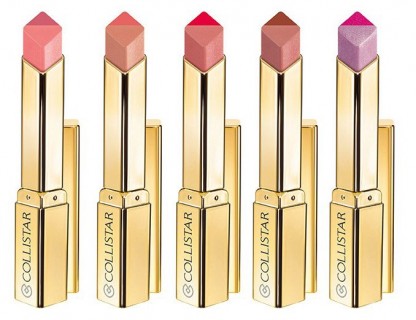 There are 10 shades available. Did you know that one lipstick holds two colours? These were matched, so that on your lips they create an incredibile effect. What's more curious, you can apply it in a way that allows an ombre effect on your lips. Extraordinary Duo Lipstick od Collistar are placed in a golden leaf. The entire thing looks amazing – just perfect as a Christmas or birthday present.
Extraordinary Duo Lipstick by Collistar not only beautifies lips, but additionally nourishes and moisturises them. This cosmetic contains natural ingredients, among many: lychee and argan oil. These substances smoother, soften and beautify lips. Lips are even and elastic. Dry skin of lips won't be your problem any more. In double colour lipsticks are also polymers for gloss and optically fuller lips. Thanks to content of triglyceride, Extraordinary Duo Lipstick is exceptionally delicate. At the same time the application becomes amazingly quick and simple. In one stroke, lipstick can cover lips with the colour.
How to apply lipstick by Collistar, Extraordinary Duo Lipstick? First apply it on the upper, then lower lip, by twisting it 180°. Product is highly pigmented, provides intense lip make-up and glossy finish. Cosmetic is long lasting, does not rub off when you eat or drink. It is highly efficient – lasts for several months of use. Check it out, you won't regret it!