NANOIL Hair Oil – Highly Valuable for Your Head!
Try to answer just one fundamental question: What does your hair need? Do you know what it wants? If you think that you guessed the answer, don't wait any longer and give your hair what it asks for. In fact, it would be best if you fulfil your strands' needs with one of NANOIL oils. The recipe for the successful hair care is pure and simple. Choose NANOIL hair oil for yourself and get the chance to know the product better.
NANOIL for different hair porosity types is a series of three fine products. When compared to other cosmetics aiming at hair care, NANOIL looks really impeccably. However, not the design itself is the indicator of the high quality of the beauty product. Each of three NANOIL oils coats hair with a little bit of luxury taken directly from nature.
These are formulas free from parabens and silicones, which mainly focus its action on the power of the vegetable oils. There were as much as 16 natural oils used to create NANOIL oils. These organic substances were combined with other innovative substances responsible for hair growth and preventing excessive hair loss. However, what in particular can be found in NANOIL series?
NANOIL HAIR OILS – HOW DO THEY WORK?
Is your hair straight, long-drying, resistant to curl and heavy? The best solution for you poses NANOIL for LOW POROSITY HAIR that contains 9 natural vegetable oils and 6 additional substances. Its light formula is non-overburdening and the small molecules make it possible for the oil to penetrate into the hair. The product can be applied to even fine hair that is deprived of the volume. Despite its dense consistency, NANOIL for LOW POROSITY HAIR doesn't clump hair nor makes hair greasy. This beauty product can be used as a leave-in cosmetic. It improves the condition of the scalp, rises hair at its roots, makes hair bulbs stronger; it works like a hair stylist closed in a bottle.
Is your hair frizzy, matte, weakened and brittle? This type of hair will be served well thanks to NANOIL for MEDIUM POROSITY HAIR that is rich in omega-7 and omega-9 fatty acids. It contains 6 natural vegetable oils and the same amount of substances that intensify the product's action. It works on hair's surface by coating it with a protective layer; this prevents excessive water loss. However, this superficial action alone wouldn't be enough to deliver such stunning effects that are expected from NANOIL for MEDIUM POROSITY HAIR. Also, it's due to the well-absorbed formula that is able to penetrate deep into all hair layers and deep into the hair bulbs, where it delivers reinforcement and strengthening.
Is your hair dehydrated, damaged with split ends; does it fall out? Definitely, you should reach for NANOIL for HIGH POROSITY HAIR. This intensive treatment contains 6 precious natural oils and as much as 8 additional substances; all of them delivering deep and intense action to the length of hair. The product is a diversity of omega-3 and omega-6 fatty acids thanks to which hair can restore its health and strength. Although the product's composition is completely natural and delicate, NANOIL for HIGH POROSITY HAIR eliminates all the problems of fatigued hair (for example, dullness, dryness, brittleness, falling out, dandruff, roughness, etc.). It neither weights hair down nor clumps it together mainly because the cosmetic works inside the hair.
ADVANTAGES OF NANOIL OILS:
Light, crystal formula rich in natural oils.
The composition matches hair porosity (hair structure).
Many ways of applying the product that can be adjusted at will.
Action delivered to the hair's surface and to the inside all hair layers; also to the scalp.
Efficiency, elegance and easiness of use at the reasonable price.
THE COMPOSITION OF NANOIL HAIR OILS
Cupuacu butter – [only in NANOIL for LOW POROSITY HAIR]
This is an exotic vegetable oil which name is hard to pronounce. It's fairly similar in composition to the human's lipid layer of skin, which makes the butter an excellent emollient. It counteracts water loss, eases scalp irritations, delays ageing processes and is considered as natural UV filter.
Shea butter – [only in NANOIL for LOW POROSITY HAIR]
This common in cosmetic field butter works as a natural UV filter, seals the outer structure of hair, lowers the level of water evaporation which, as a result, increases the level of moisturization. It's the substance that provides hair with flexibility and shine.
Argan oil – [in all three formulas]
This Liquid Gold of Morocco has valuable heat-protective features, therefore, it eases hair styling by delivering permanent hair preservation. It works regenerative and, as one of a few oils, it's able to seal the outer structure of hair.
Avocado oil – [only in NANOIL for HIGH POROSITY HAIR]
It's called an oil of seven vitamins. It gifts hair and scalp with larger-than-average moisture and smoothness. It's a 100% natural UV filter of extra features that counteract premature ageing.
Babassu oil – [only in NANOIL for LOW POROSITY HAIR]
It's an oil resembling butter that is characterised by its great moisturising action. It improves flexibility of hair, coats strands with the natural protective layer, eases combing and solves scalp ailments such as psoriasis or atopic dermatitis.
Cotton oil – [only in NANOIL for HIGH POROSITY HAIR]
Extracted from cotton seeds oil has moisturising action, it regenerates irritated scalp and works anti-inflammatory. It's recommended to treat super damaged hair that has lost its health due to being exposed to frequent styling procedures. The oil also serves hair ends by strengthening them and rebuilding.
Cedar oil – [only in NANOIL for LOW POROSITY HAIR]
Natural oil extracted from Siberian pine works way better than etheric cedar oil. It contains a set of anti-oxidants, cleans scalp, nourishes and moistens. It's recommended mainly to combat such scalp ailments like dandruff and greasy hair.
Jojoba oil – [only in NANOIL for MEDIUM POROSITY HAIR]
It's vegetable wax with the harmonious balance of fatty acids. It doesn't only nourish and moisten hair, but also it delivers flexibility, softness and body to strands. It counteracts split ends and regulates sebum production.
Coconut oil – [in NANOIL for LOW and MEDIUM POROSITY HAIR]
One of the most popular oils used for body and hair care. It provides hair with the maximum protection against the sun. It's worth applying it to delicate hair ends. Contrary to popular beliefs, it doesn't have high regenerative features.
Macadamia oil – [only in NANOIL for MEDIUM POROSITY HAIR]
This extracted from macadamia nuts oil restores vitality to weakened hair. It provides strengthening and moistening to hair, which later transfers onto greater hair flexibility. Also, it positively affects scalp regulating the level of produced sebum.
Passion fruit oil – [in all three formulas]
Natural oil of double anti-oxidant potential. When treated with the passion fruit oil, cells of the human organism become protected against premature ageing. The oil accelerates hair regeneration, strengthens hair natural hydro-lipid barrier and adds shine.
Marula oil – [only in NANOIL for MEDIUM POROSITY HAIR]
The African treasure which serves both skin and hair. It has anti-bacterial features, so it eases irritations and regulates pH of the scalp. Moreover, it regenerates and strengthens hair as it gifts strands with smoothness.
Almond oil – [only in NANOIL for HIGH POROSITY HAIR]
In the cosmetic field, it's only the sweet almond oil that is used. Its action is way more nourishing and regenerative when compared with the regular almond oil. This sweet nut version of the oil provides complete moisturization, makes hair flexible and strengthens hair bulbs. Moreover, sweet almond oil eases irritations of the scalp.
Monoi oil – [only in NANOIL for LOW POROSITY HAIR]
The macerate of Tahitian Gardenia blossoms works great at treating hair constantly exposed to the damaging environmental factors. Monoi oil creates a velvet protective film on hair's surface shielding its fine outer structure. Also, Monoi oil gifts hair with softness.
Castor oil – [only in NANOIL for LOW POROSITY HAIR]
Although the oil is very cheap and easy-accessible, castor oil is considered as the best natural substance for hair growth. It stimulates hair bulbs and counteracts hair loss. It makes hair colour stay true for longer and turns strands into being glossy.
Evening primrose oil – [only in NANOIL for HIGH POROSITY HAIR]
It's the remedy not only for excessive hair loss but also for the huge part of other skin problems. It serves well especially at treating scalp ailments such as dandruff. Evening primrose oil is especially recommended to hair damaged by colouring and hot styling.
APPLICATION OF NANOIL > HAIR OILS SOLO
It has to be borne in mind that each of the above-mentioned oils works more intensively when blended with similar vegetable substances. One oil answers one, particular problem, whereas a set of oils, which complement each other's action, proposes the more complex solution. It's also worth realising that some oils, if combined together, may start working way stronger than normally. Sometimes they can even expose new features. You only need to know how to mix the oils. Luckily, the ideal oil proportions can be found in NANOIL hair oils.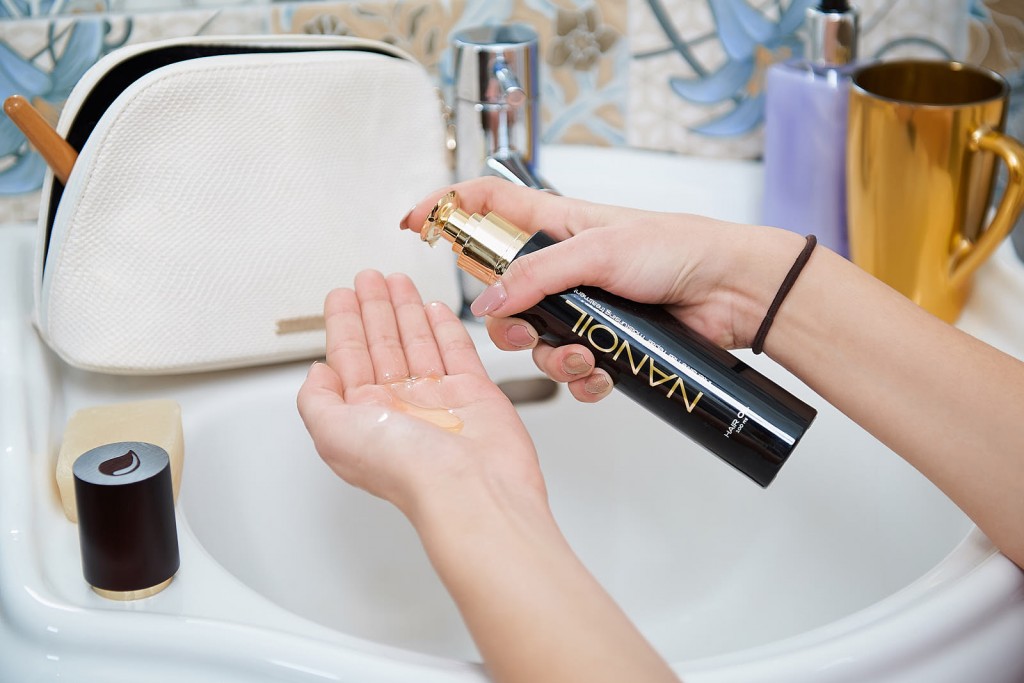 Undoubtedly, treating strands and scalp with NANOIL hair oil delivers better outcomes than applying just one oil because:
NANOIL combines the best features of several natural hair oils,
NANOIL contains oils that match a particular hair porosity type,
the blend of oils complements the oils' features,
when combined, the oils work more effectively,
the action of the natural oils is intensified due to additional substances,
the proportions of the oils are perfectly figured out.