Castor Oil. What Benefits It Brings, Which Problems It Remedies, Which One to Choose?
If we asked about the best ways to get longer lashes or stronger hair, lots of people would point to castor oil. It brings great benefits, is easy on the pocket and 100% natural. Let's see its properties and find out which commercially-available castor oil is the best.
Legends say castor oil will make your hair 4 inches longer in a month! Unfortunately, it's more of a dream than the truth. Nevertheless, castor oil does work great and it's worth our attention!
Uses for castor oil
Castor oil is a multi-purpose beauty product that helps care for hair as well as eyelashes, eyebrows, facial skin (best for oily complexion), and even nails.
It successfully replaces many cosmetics that we use every day: it works as make-up remover, lash thickening serum or scalp treatment to inhibit hair loss. Castor oil brilliantly fulfils each of the roles thanks to the properties it displays.
Castor oil and its unique ingredients
When looking into the formula of castor oil, it comes obvious this isn't just another oil used for beauty purposes. It doesn't contain many omega acids and it isn't as rich in vitamins as people tend to say. So, what does it hold making it work wonders?
Ricinoleic acid is the key ingredient and it can't be found in any other oil. It's exceptional and known for strong antibacterial and moisturizing effects. Naturally, castor oil has some other beneficial fatty acids but they come in smaller amounts (for example, oleic, linoleic and palmitic acids). Castor oil also includes fat-soluble vitamins A and E but not as many as other oils.
Cold-pressed and unrefined
We must underline that only cold-pressed, unrefined, organic castor oil has the best properties and the best effects. This kind of oil is the highest in beneficial ingredients and each drop relieves the skin and has a stimulating effect. In other words, only the top-quality castor oil brings benefits for beauty: it may be slightly pricier but it surely pays off.
You will find our round-up of the best castor oils below. Before that, see the benefits of castor oil for beauty.
Benefits of castor oil for hair
It is the most famous hair-growth oil. If you remember to rub it into the scalp regularly – for example an hour before shampooing – you will effectively stimulate faster growth of hair. The stimulating effect isn't the only thing castor oil can do: it also moisturizes, adds resilience and boosts shine. After a couple of weeks of castor oil treatment, the scalp will be healthier and the sebum glands will work properly. Thanks to its properties, castor oil reduces oiliness of hair, minimizes itchiness and irritation of scalp, and consequently eliminates dandruff.
Benefits of castor oil for lashes and brows
It has a similar effect on the eyelash and eyebrow hairs, and therefore it's popular as a natural lash or brow serum. It nourishes, hydrates, adds resilience and shine, but mostly stimulates faster growth: lashes and brows become bolder, new hairs appear, your brow or lash line is fuller.
Castor oil for removing make-up
As far as face care goes, girls love to use castor oil as a base for OCM (oil cleansing method) blend. Cleansing face with oils has lots of benefits. Castor oil plays a role of a cleansing, detoxifying and balancing agent. It effectively removes the most greasy dirt, kills bacteria and restores the natural ph of skin so that the sebum glands can function properly. As a result, the skin is less oily, less problematic and better looking. This natural ingredient relieves acne skin and restores balance – no matter if you use it for removing make-up or instead of a face wash.
Which castor oil is the best?
This is all true. Castor oil has a wonderful effect on the facial skin, hair, and nails. There's just one condition to meet. We must choose the best castor oil: designed for beauty purposes, having top quality and formulated without any additional substances.
What to choose? See castor oils that are worth having: highest-ranked and best-selling, safe, miracle-working, beating many golden argan oils.
▶ NANOIL CASTOR OIL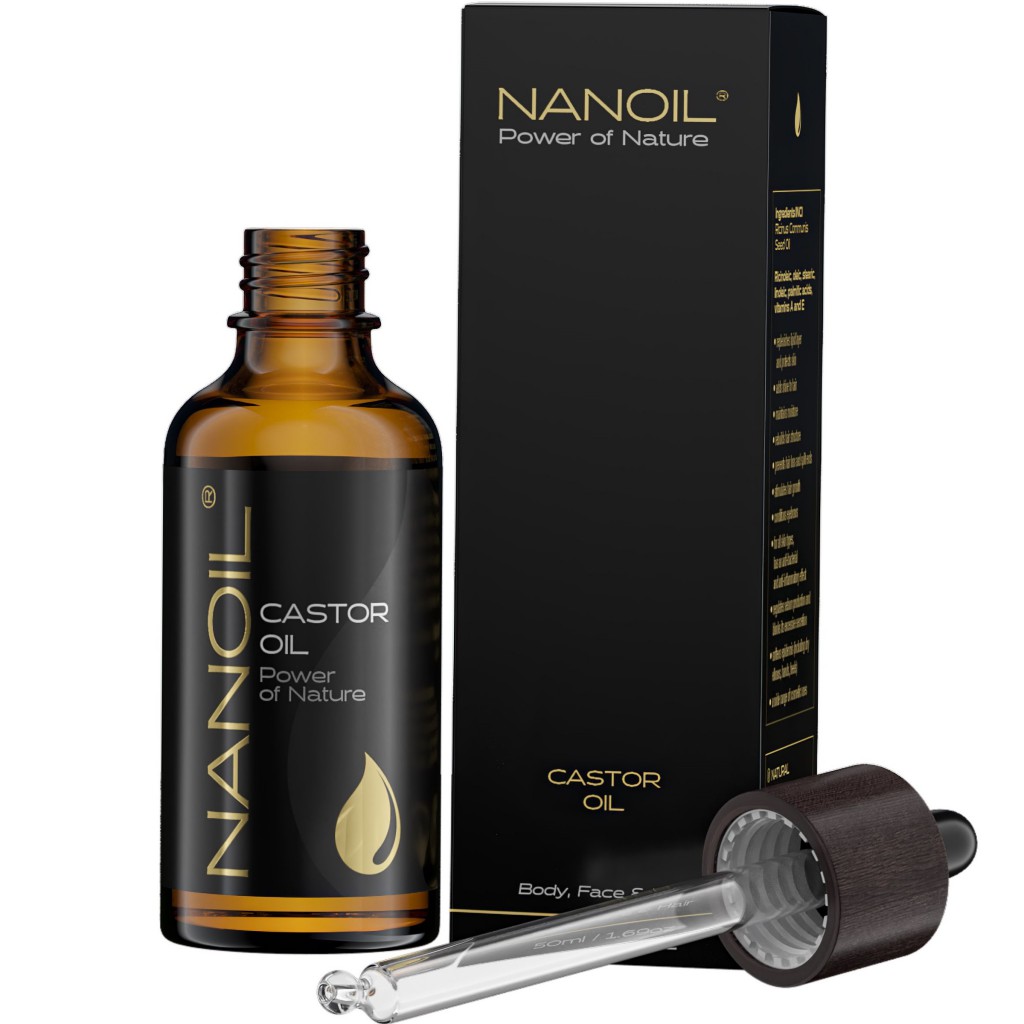 Size: 50 ml
INCI: Ricinus Communis Seed Oil
Nanoil Castor Oil is on top. Cold-pressed, unrefined, 100% organic – in other words, the quality of this oil is excellent. The formula holds nothing but certified pure castor bean oil. It hasn't been tested on animals so everyone can use it.
The effects are the priority so let's move on to the benefits of Nanoil castor oil. It is second to none while strengthening weak hair, preventing hair loss or stimulating faster growth. Additionally, it thickens both eyebrows and eyelashes. The oil reinforces nails and restores shine, elasticity and smoothness of the skin, eliminating the most common conditions. It does it all without congesting the complexion or leaving the greasy layer, because it's lightweight and not too thick.
Would you like to learn more about Nanoil? You can read everything about its uses and effects on www.nanoil.us where you can also place an order and get your oil without leaving the house.
▶ EARTH TO YOU CASTOR OIL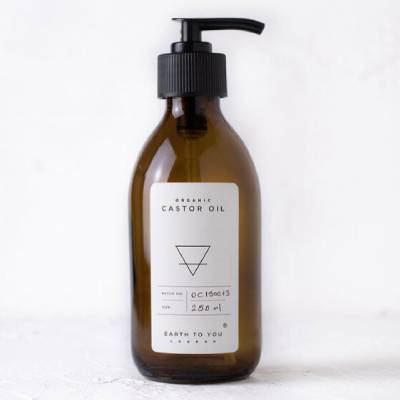 Size: 100 ml
INCI: Castor (Ricinus Communis) Oil
A little lower in our ranking – an equally interesting but definitely much more expensive oil. Earth To You offers organic, vegan-friendly, cold-pressed and unrefined castor oil from India. When it comes to quality, this is one of the best castor oils whose naturalness is confirmed by USDA and OneCert.
The Earth To You Castor Oil offers multiple uses and works as a natural facial treatment and nourishing serum for lashes or hair. It conditions, strengthens and visibly improves the look but it's recommended to mix it with other oil, for example argan oil. Why? The oil in an amber-colored glass bottle is really thick and has an earthy smell. Still, this doesn't mean it's ineffective.
▶ SATIN NATUREL CASTOR OIL
Size: 200 ml
INCI: Ricinus Communis Seed Oil
Satin Naturel offers another vegan-friendly, cold-pressed, pure, organic castor oil. The German cosmetics company takes it from the sustainable crops in India and puts it in a fancy black glass bottle to secure the oil against the light.
Still, the contents matter the most. How does this castor oil do in daily care? Pretty well. It is a good choice for those who seek natural substitutes for a face cream or body lotion. It soothes irritations and restores balance – both of the complexion and scalp. Naturally, it also strengthens the hair, nails, lashes, and brows. Satin Naturel Castor Oil is a good all-round cosmetic.
▶ EVE HANSEN CASTOR OIL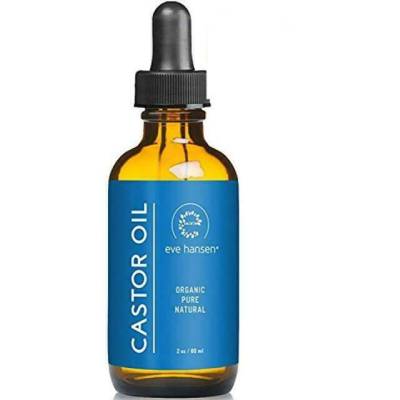 Size: 50 ml
INCI: Organic Castor Oil (Organic Ricinus Communis)
Eve Hansen Castor Oil comes right after the oils on the podium. The oil comes in a simple dark glass bottle and its quality is confirmed by USDA. Because of being cold-pressed and pure, each drop holds the maximum amount of antioxidants.
As far as effects go, this is a typical oil suitable for use on hair, lashes, and brows. It helps treat flaking and very dry skins, and minimizes irritations. It makes the skin sigh with relief because all oils by Eve Hansen are gentle on the skin and created in tune with nature.
▶ AVRIL CASTOR OIL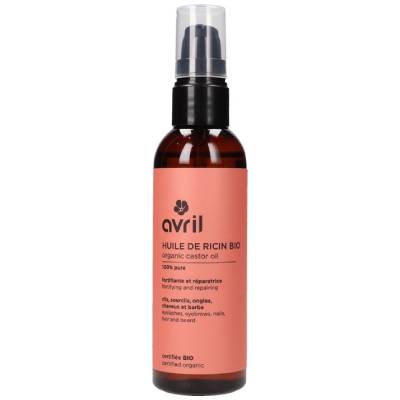 Size: 100 ml
INCI: Ricinus Communis (Castor) Oil
Among the best castor oils, there's room for Avril oil. This cruelty-free castor bean oil comes from sustainable crops. It's 100% pure, eco-friendly and dermatologist tested.
This oil has many uses but it isn't the best pick because of being very thick and hard to apply on hair, for example. However, it does strengthen and repair hair, lashes or nails if you use it regularly. It also works as a beard oil. The reviewers don't mention its effect on the face skin. It needs to be tested to see the results because they may differ for different users.