Jelly for shower? Check out this new product from Lush.
It is soft, wobby, it lathers, it can be chopped, smells beautiful and is 100% made of natural ingredients. What is it? It is a new Shower Jelly from Lush. Just try out this interesting cosmetic and you will be very surprised.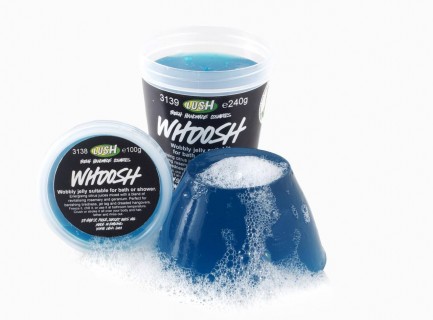 Shower Jelly from Lush will successfully replace your regular soap or shower gel.This original cosmetic has cleansing, moisturising and nourishing properties. The jelly coats your skin with beautiful scent, colour water and are very fun to use. You can do whatever you want with shower jellies, for example: squeeze, crumple, cut, and even freeze. Chopped into smaller pieces will be easier to use, chilled in the fridge – refresh tired body. You can use them as often as you want.
Shower Jellies from Lush come in various sizes and shapes. You can choose from round, square of green, red blue or yellow colour. Nevertheless, the biggest advantage of this wobbly jelly is that it is made of natural components. Among other, you will find the following ingredients: extract of pine needles, cedar oil, honey, orange juice, cinnamon and many others. What is more, Lush brand does not test their products on animals, does not use any artificial dyes or fragrances. Therefore, the cosmetics are suitable for vegans as well.
Do you know that this washing jelly can nurture both your skin and hair? Check out how to use it. All you need to do is to dampen the cosmetic with a small amount of water and the lather that appears is to be applied to skin and hair. Remember to match the product to the needs of your skin and type of complexion. Take into consideration its components. It is very important, especially if you are planning to use in on your scalp as well as hair. In the morning, Shower Jelly from Lush will provide you with energy, while in the evening it will sooth tired body. Can you believe that you can also buy a jelly that resembles Santa Clause's belt? It consists of: anise, apple, oil of bergamot and rose oil. It is the perfect gift for Christmas