Feel the magic of this Christmas! Winter collection Bath&Body Works
Christmas is a magical time when you should make presents not only the closest ones. Undeniably gifting others brings a lot of joy. However, you should never forget about yourself. If you impatiently await the Christmas, try winter collection Bath&Body Works. Give yourself a gift of relax.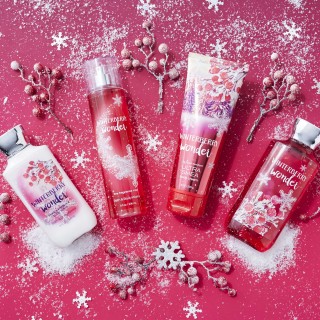 It doesn't matter if you were a good girl this year. This Christmas you can feel like a little princess. Take care of yourself with Bath&Body Works in its newest, winter version, that is just perfect for this time of the year. You deserve some rest and relaxation as well. You do not need a specific reason to grant yourself with the gift in form of few cosmetics that can help you feel the magic of the Christmas. Surely you remember it from when you were a child.
Bath&Body Works Winterberry Wonder is a cosmetic line, which relates to all of that we know and love about the Christmas. The winterberry that inspired the brand to launching this collection was holly with intense red fruits, which resembles berries. This plant holds some truly precious properties, which will certainly be appreciated by our tired with winter conditions, skin.
What can you find in the Bath&Body Works Winterberry Wonder collection?
body balm,
shower gel,
body cream,
body mist.
Winterberry Wonder is cosmetic line, that is able to satisfy not only the desire to have beautiful body, but will also be perfect present. The cosmetics present themselves beautifully. Dark pink packagings in combination with white reminds us of the fruits of holly sprinkled with first, soft snow. Under the silver tops are hidden formulas with great action. The ingredients in the cosmetics nourish, moisturise and protects skin against difficult winter conditions. You cannot deny to yourself such a beautifully scented and calming pleasure.
How do the Christmas smell like? What do we associate it with? With a cream cupcakes and other sweets with frosting. We also associate it with cinnamon gingerbreads, dried orange slices and aromatic compote. These and other scents you can discover with the newest cosmetics from Bath&Body Works. They can help you to truly feel the magic of this Christmas.
In this cosmetic line, beside Winterberry Wonder are also: Fresh Sparkling Snow, Snow Kissed Sugar, Frosted Winter Woods, Jingle All The Way, Red Welvet Cheer, Twisted Peppermint, Vanilla Baen Noel, Winter Candy Apple.