Frazzled Hair Rescuers: Keratin Masks and Their Amazing Effect on Hair
Frazzled and over-processed hair craves for a deep treatment. Luckily, there is one product – hair mask – that is perfectly capable of presenting damaged hair with everything it may possibly need. This hair product makes strands smoother, stronger and full of shine. What is its secret? Which mask should you pick and how to use it to repair hair quickly and effectively? These are the questions we have the answer for!
Hair Mask: The Secret of Beauty
We're certain that you wondered, at least once in your life, why your strands are so smooth, soft and shiny after leaving a hairdresser, and why you fail to get this effect at home. The problem is that you probably don't expose your hair to the products that ensure a deep treatment and satisfy your current hair needs.
The secret of gorgeous and full-looking hair lies in the cosmetics you apply. Hairdressers do this right because they have the knowledge and experience. You, however, should bear in mind one crucial thing: there's literally nothing that would condition and leave you with better-looking hair than a good hair mask.
Hair masks were developed so that you can expose your hair to an intensive conditioning treatment. Delivering stronger effects is what makes them different from regular hair conditioners. Why are hair masks so potent? Firstly, because they easily penetrate the hair. Secondly, they smooth out cuticles raised by shampoo. Thirdly, they're formulated with highly concentrated ingredients, hence better results. But most of all, a hair mask doesn't only revive hair from within but also delivers round-the-clock protection from external aggressors, e.g. the sunlight or extreme temperatures.
Keratin Hair Repair at Home
Obviously, each hair mask offers a different set of benefits. How will you know which product to choose? What should be your guiding factor? We suggest checking the ingredients because they are the main determiners of both the effects and applications a particular hair product has.
Naturally, damaged and frazzled strands need something that would repair them. Proteins are proven to bring the best results because they show almost limitless potential as damage reversing agents. And the best and most powerful among them is keratin – a protein that our hair is naturally built from. Indeed, this is keratin that repairs damage in hair, leaving it smoother, resilient and thicker. And keratin hair masks are the very secret of home remedies for damaged hair. To see the improvement, try applying a keratin hair mask on a regular basis, for example as a post-shampooing treatment. This should give you the effects comparable to the ones created by the professionals in their luxurious hair salons.
Best Hair Mask for Keratin Treatment
Which keratin hair mask should you pick to repair hair quickly and effectively? Here are 6 products that you'll fall in love with at first use!
NANOIL KERATIN HAIR MASK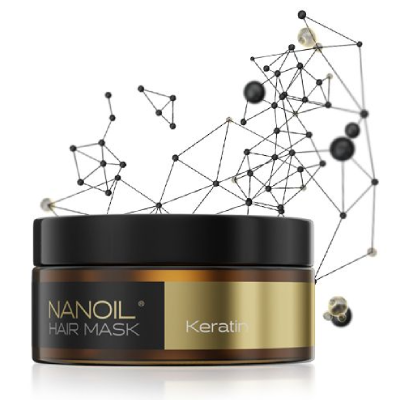 As the first product we give you this round-up's best hair mask, obviously. Why did it win the top place? Because as the only one, Nanoil Keratin Hair Mask is saturated with hydrolyzed keratin that reaches deeper, thus repairs better. This makes it a perfect solution for dry, damaged, brittle and splitting hair. This hair rescuer creates visible effects after the very first application, leaving strands smoother and easy to comb. Nanoil Keratin Hair Mask counteracts frizz and boosts shine. The more you use the keratin mask from Nanoil, the healthier and better-looking your strands become. Throughout the treatment, the product reveals stronger, repaired, resilient and damage-protected strands. Almost weightless, creamy and wonderfully-smelling, this hair product is totally worth being kept close at hand.
KÉRASTASE RÉSISTANCE THÉRAPISTE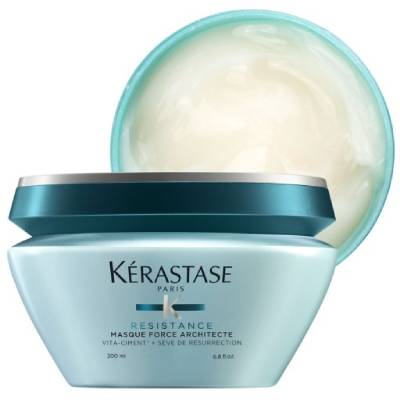 Among the most popular keratin hair masks there is also Kérastase, which is fairly surprising because it isn't a budget-friendly product. Not all Kérastase hair masks are formulated with keratin, but the one from Résistance Thérapiste does have it. Teamed with ceramides, Fibra-KAP complex and plant extracts, this essential protein reconstructs, repairs and reinforces fatigued hair. This product is recommended for over-processed hair, overexposed to incorrect use of dyes, bleachers and heat styling which inevitably contributes to hair damage. This mask is also proven to be suitable for thick hair that is hard to style and doesn't hold a curl. If used regularly, keratin hair mask from Kérastase will reconstruct broken bonds in hair, strengthen the strands and leave them super smooth.
L'ANZA KERATIN HEALING OIL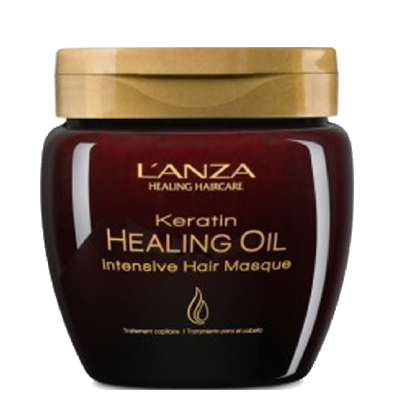 Quite expensive but highly effective in reviving damaged hair – L'anza and its keratin hair mask. This deeply penetrating, intensive conditioning treatment rich in repairing ingredients nourishes, reverses damage and brings hair back to life. L'anza Keratin Healing Oil is a product recommended for all hair types, but especially for strands that are weak, damaged and brittle. It's worth emphasizing that the best results are created only when you pair this product with a shampoo from the same line. The good news though is that the effects are quick, because you need just 5-10 minutes to let the mask sit on your strands and do its trick.
DAVINES NOURISHING HAIR BUILDING PAK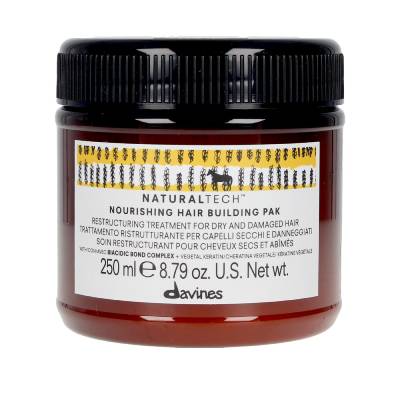 On the best keratin hair mask list there is also an offering from Davines and its NaturalTech hair care series. This particular product contains not one, but two types of keratin: regular and hydrolyzed, which are teamed with grape phytoceuticals that are known for being potent antioxidants. This is a hair mask that is tailored for damaged and dehydrated hair, leaving it smooth, soft, shiny and protected from damage. Delivering desired results is possible due to the omega-9, one of the essential nutrients that hair needs to remain healthy. Therefore, if your strands like plant oils, you should consider Davines Hair Building Pak hair mask your go-to.
BRAVE NEW HAIR KERATIN MASK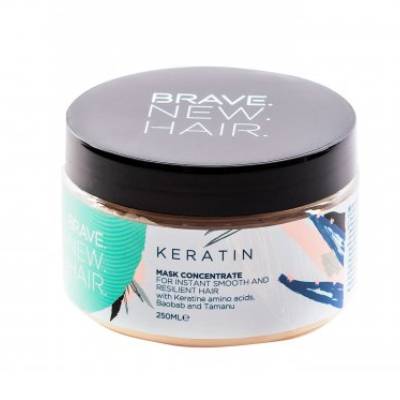 You don't have to pay through the nose to repair and reinforce frazzled strands. Here is a budget-friendly hair mask formulated with keratin, baobab oil and tamanu oil that leaves hair super smooth. It improves hair's manageability, tames it, replenishes moisture and combats frizz. It's worth realizing though that the keratin content isn't high enough to reverse damage in extremely damaged hair. However, this doesn't mean that Brave New Hair isn't worth testing. It's definitely worth giving this keratin hair mask a try because it's super easy to use – it takes just 5 minutes for this mask to work on your hair. Lastly, Brave New Hair is free from sulfates, silicones and vaseline, which is a huge plus, especially for those with heavy hair.
MONTIBELLO KERATIN FORCE MASK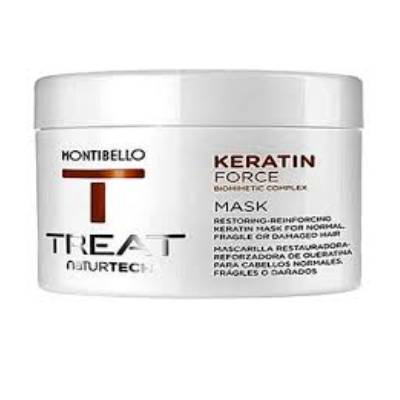 The very last offering is Montibello and its heat protection hair mask. Developed especially for weak and damaged hair that is fine by its nature. Montibello Keratin Force Mask's task focuses on nourishing, strengthening and increasing resistance to damage thanks to keratin, plant proteins, guar gum carbohydrates and carriers that transport the nutrients deep inside the hair. Two major pluses for Montibello keratin hair mask for the affordable price and the effects, but of course there are also some drawbacks: a small size, heavy texture and a composition that isn't fully natural. Still, this is an offering worth trying, especially if you're looking for something that would help dry and lifeless hair become better-looking.