Dove, self-tanning body lotion DermaSpa Summer Revived
Self-tanning body lotion Summer Revived is a spring novelty from DermaSpa series designed by Dove. The dream of beautifully tanned skin can be fulfilled even before this sunny-day season begins. How does DermaSpa Summer Revived work? What are the effects it delivers? Keep reading to find answers to the questions.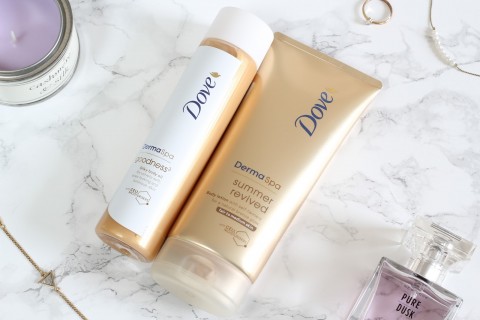 Summer Revived series is composed of body lotions that are enriched with water replenishing and skin nourishing Cell-MoisturisersTM technology. The body lotion is additionally mixed with skin bronzing agents. Due to such composition, the body lotion bronzes skin so we do not have to expose our body to destructive action of sun rays. Proper moistening, nourishment and skin tanning just with one product is possible thanks to Summer Revived body lotion.
This moisture-delivering body lotion with self-tanning complex by Dove is available in two versions, which have to picked up accordingly to skin shade. If done so, you will obtain natural effect without bothering about badly-looking smudges and stains on the body, which unfortunately are typical for this kind of products. Especially for pale skin owners, Dove created Summer Revived Fair to Medium Skin. For those whose skin is a little bit darker, Dove offers Summer Revived Medium to Dark Skin.
Dove DermaSpa Summer Revived delivers natural effect of suntan that melts into skin. This amazing effect is owned to a light formula, which makes the product easy to distribute evenly all over the skin as it is absorbed promptly. The effect of moistening is almost immediate as the suntan develops gradually just within a few hours (in most cases up to 3 hours) since application. Moreover, this self-tanning body lotion Summer Revived by Dove was developed in such a way to prevent any smudges or dark spots form developing on body skin.
To summarize, Summer Revived body lotion by Dove is an easy way to replace multi-stage self-tanning procedures with just a single beauty treatment. It does not only deliver complex nourishment and natural-looking suntan. What can we also expect form Summer Revived is healthy-looking, sun-kissed body skin.