Eye make-up with Burberry – Complete Eye Palette
Burberry fashion house is famous for its clothes and accessories with characteristic Scottish checker. This famous pattern was placed by manufacturer also on the cosmetics. The same trick was used for eye shadows, Complete Eye Palette. Check out the newest shades and perform trendy make-up.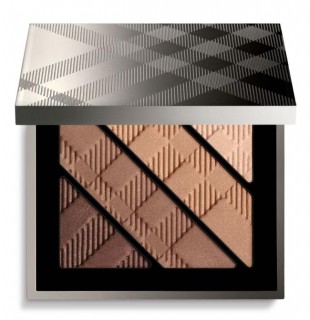 Complete Eye Palette are locked in small golden packaging. Inside is a mirror for easier touch up on the go. In the brand's offer are 11 palettes. Among them you will find shades of: beige, brown, green, pink, grey and blue. Obviously, there had to be the iconic checker. The pattern decorates the lid and surface of the cosmetic. In one palette are four eye shadows.
New eye shadows, Complete Eye Palette by Burberry have beautiful colours and are perfectly pigmented. They last up to eight hours, does not flake and are crease-resistant. If you want your make-up to be even more beautiful and long lasting, first apply silicon eye shadow base. Burberry eye shadows have creamy texture, are easy in application and blending. To create even more intense make-up, apply two or more layers. What is more, you can also use product wet or dry.
Eye shadows by Burberry are made of natural ingredients. There are, among many: zinc, mica, talc, maize seeds extract. What is more, these contain mild and fully safe colour providing substances – iron oxide.
Did you know that with Complete Eye Palette you can create smoky eyes make-up? Just apply the brightest shade in the inner eye corner and the darkest one on the external eye corner. In the middle of eyelid apply the remaining two eye shadows. Blend it all thoroughly; along lashes root line, with black eye liner make a line. Use mascara or attach false eyelashes. Your make-up with new eye shadows, Complete Eye Palette by Burberry is ready!